Reviews
Sent by real customers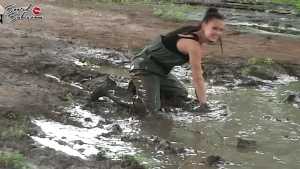 One of the best chestwaders videos I have seen.
Angel is pretty, the chestwaders look great (at least to people like myself whose fetishes include heavy-duty waterproofs), and she appears to have fun splashing around, sitting and kneeling in a muddy puddle. Unlike many videos of this kind, she doesn't let the water or mud overflow the top of the chestwaders, so she probably did stay clean and dry (except her hands which are not gloved)--it's just a pity she doesn't take the chestwaders off afterwards to show us, which is why I rate this 4/5 rather than 5/5. Also, not really complaining but just to inform prospective buyers: the video looks like it might have been scaled up from something smaller, or just be a bit blurry; the amount of detail in it doesn't fully use the 1280x720 resolution.
-
mattmess
1/1/21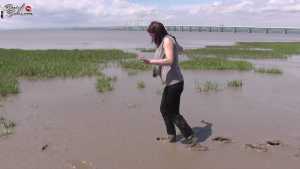 Miah is always a pleasure to watch
Love these boots, Miah's always as alluring as always. Would love to see her get properly stuck one day, damsel-style.
-
SpannerWilkins
11/10/19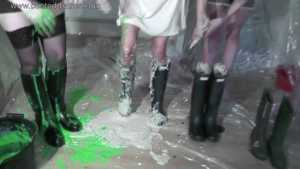 A sensuously slow build-up to a generously great climax!
I'm going to start this review by celebrating its ending this one has a wonderful climax! It begins slowly (to be frank and forthright) and there is nothing wrong with this... life is one act creating anticipation after another... the four women in this film will fill their rubber boots (each with a different concoction) and then attempt to create a splash worth of the moment when they take turns stepping into their boots (indirectly we learn something about what is necessary to do this)... the playful preparations are part of the pleasure... in the end, the resulting mess is magnificent (and, in my eyes, something of an act of generosity)... I enjoyed this film more and more with each viewing... and the very messy climax is excellent! Cheers!
-
Outsider49
3/25/19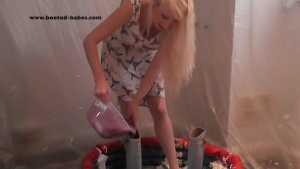 Playful pleasure before washing up! The boots need cleaning!
Jessie's sky-blue Hunters are still a bit muddy after the last time she wore them... but before washing them, she essentially says "Let's have some fun!" Jessie is standing in an indoor wading pool wearing a short white dress and white thigh-high stay-up stockings. She slips her feet into the boots to start the fun by jumping onto two pies. But this is just the beginning! She follows by repeatedly taking off the boots to fill them with the various concoctions waiting in nearby bowls and, after each filling of her boots, she steps into them and then lays down in the wading pool to allow what's in the boots to slide downward over her Nylons onto her lap! Over and over again! Midway through the first part of this feature, she calmly says that she will (as usual) finish by pouring the whole mess over her head this creates a magnificent moment of "build-up" for the viewer and we are indeed treated to some great close-ups of what she does to fulfill her "promise"! The last five minutes of this film is in the shower cleaning the boots (the rationale for this micro-moment). All in all, we are treated to a thoroughly enjoyable visual adventure with a wonderful woman! Clearly this is one for those who love boots! Cheers!
-
Outsider49
3/25/19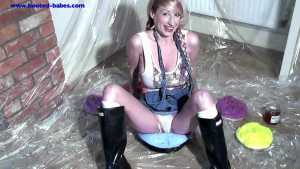 Magnificently messy where it merrily matters!
A perfectly playful seven-minute miniature from Jessie in an outfit completed with the Hunters she's wearing (just for us!)... when she starts by lifting her skirt we can guess what's in store: cake sitting involves getting merrily messy where it matters (if I may put it this way)! She has several cakes (in pie plates) to enjoy the way she's going to enjoy them. After she's lowered herself on the first one, she attends to her boots (spreading stuff sensuously over the black rubber of both boots) she knows what we love to see! Then she turns around to give everyone a view of the white material she's wearing that is not going to stay white for very long! The cakes she's prepared are colourful and she herself gets more and more colourful as she sits on each one! She spreads the "oozing out" contents of each cake over herself both front and back: joyously coating the top of the outfit she's wearing as well as what she's wearing below her waist. The focus is on how messy a woman can get when she sits on something and she ends this short film being delightfully messy where it matters with her boots being merrily messy too. She does not go overboard in this one and this is fine with us! Cheers.
-
Outsider49
3/24/19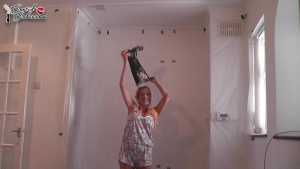 Seven minutes of playful pleasure!
This seven minute miniature is a genuine gem! There's no pretense we know why we want to be watching and so does Jessie! The scene opens with a pot of spaghetti that first needs to be cooled down... and from the first scene we're given a gracious glance at a perfectly playful part of this presentation her captivating cleavage! There's a lot of laughter in this one (when the world needs more laughter if I may say so!)... while kneeling she fills both boots with the substance du jour and then she stands (saying "we're going to go for it now")... she steps into each boot... she takes her time doing this much to our delight... and in the process one of the straps of her dress slips off her right shoulder (just saying!). As her left foot penetrates the second spaghetti-filled boot, Jessie says "There's something amazingly satisfying about that..".. we have no doubt! This magical micro-moment concludes with her pleasure in playfully pouring the spaghetti from her boots over herself (and onward to getting more messy) in a wonderful way to end up! And what can we say about fallen straps? She handled it naturally all part of a wonderful short film! Cheers!
-
Outsider49
3/24/19